Multi-Room Audio Using Rotel Amps
With even more high-quality custom speaker options on the market, it's more important than ever to consider the sound quality and power capability when selecting the right amplifier for your customer's Whole House Music System.

With options designed to fit any system configuration, Rotel's award-winning range of Single and Multi-Channel Distribution Amplifiers guarantee your customer a stunning musical experience in every room of their home.
---
Product highlights
RKBD-8100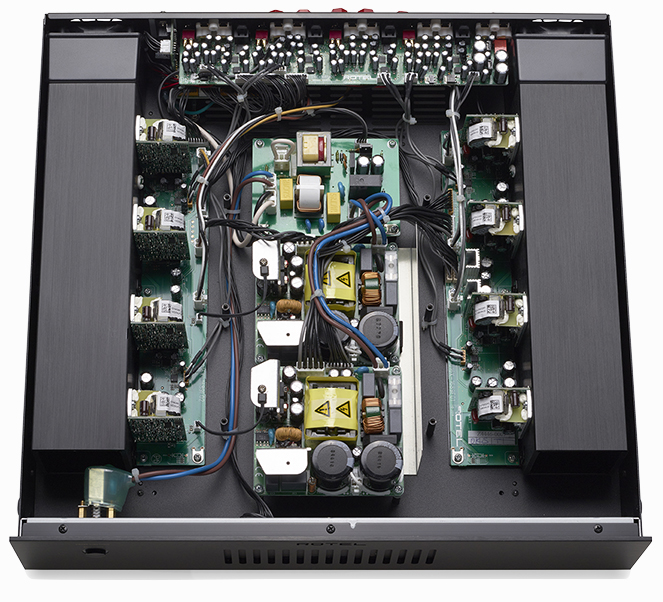 Rotel's RKB amplifier is the result of a great deal of research into what custom installers require for today's multi-zone audio configurations. Rotel incorporates an extended feature set with rugged reliability and superb audio performance.

Features:
– 100 W per channel @ 8ohms
– All Channels Driven over 8 Channels/ 4 Zones

It's no secret the typical long runs of speaker cable in custom installations present real challenges to amplifiers. The best way to maximise the sound quality of custom speakers is to provide them with plenty of high-quality power. With a full 8 x 100 Watts per channel, all channels driven at 8 ohms, the RKB-D8100 is Rotel's most sophisticated and powerful custom installation amplifier.

At only 2U height, with a dual-fan cooled chassis, four front panel trim pots, selectable power control options, a rear panel RS232 connection and improved input linking, the RKBD-8100 is the perfect solution for higher performance multi-zone audio systems. The RKB-D8100 also features digital inputs for increased functionality with any digital source component. It also features dual SMPS power supplies partnered with high efficiency, low heat, Class D operation and no compromise audio engineering setting new standards for the custom installation amplifier category.

One of the many custom-friendly features the RKB-D8100 offers is input linking. A second input can source from any 'upstream' input - so B can source from A, C can source from B and D can source from C. You can create four individual stereo zones, two dual zones or three common zones plus an individual zone. In other words, two Sonos Connects (for instance) might be divided between kitchen and patio (A+B zones) and Master Bedroom and Bath (C+D).

Other features include input signal sensing, buffered link output, a sum-to-mono feature, a rear panel RS232 connection allowing connection to automation systems to provide full control and feedback, and four front panel trim pots to allow easy level adjustment to balance zones.


---
RMB-1512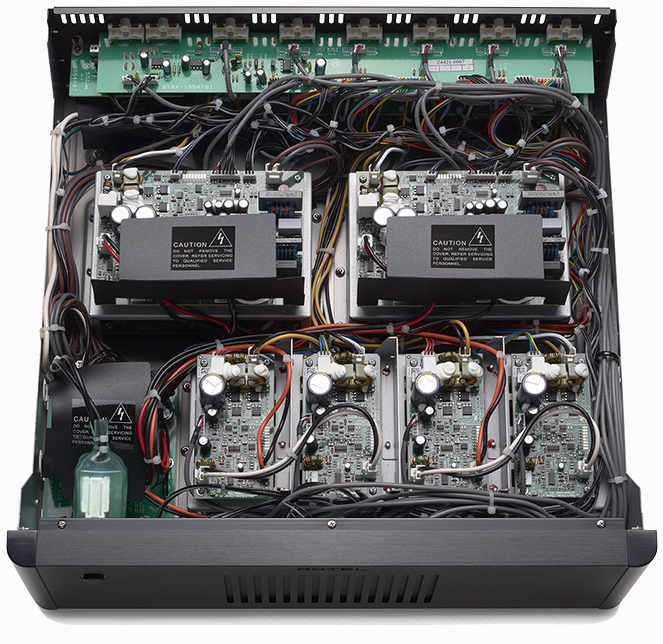 No longer do you need several large amplifiers to obtain a high-performance multi-zone audio system. The RMB-1512 features an advanced Class D design that provides plenty of power (12 x 100 Watts into 8 ohms) for the most demanding multi-zone audio systems, but never runs the danger of overheating itself or other electronic components placed in the same vicinity.
The RMB-1512 features everything needed for remote operation and custom installation including 12-volt trigger, signal sensing, input bussing, sum-to-mono, buffered link output, front panel attenuation controls, five-way binding posts and screw terminals.
---
RMB-1506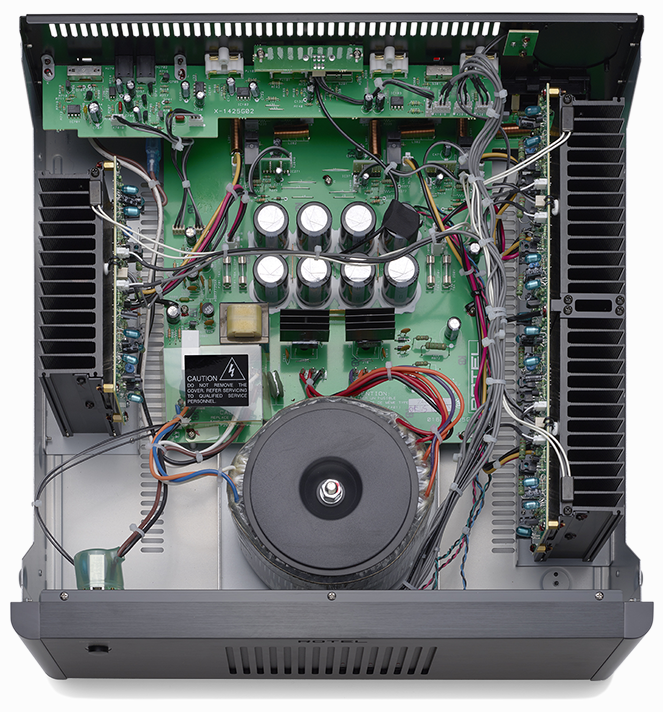 The RMB-1506 is perfect for simpler multi-zone audio systems with 6 x 50W per channel. It can also be matched with an AV Receiver with outputs for music throughout three additional living areas or "zones" of a home. A buffered link output allows you to link additional amplifiers for larger multizone applications.
As with all Rotel custom amplifiers it includes the most wanted custom installation features such as front panel attenuation control, input linking, 12-volt trigger, buffered link output, five-way binding posts and an IEC detachable power cord.
---
Rotel also has a broad range of powerful, versatile stereo integrated amplifiers and power amplifiers that are perfect for single-zone applications. Take a look at those
here
.
If you want more information on Whole House Audio, check out
this helpful article from Rotel
. http://www.rotel.com/whole-house-audio-101
---
Have an existing project that Rotel amplification and sources will be ideal for? Want to discuss specific requirements for new projects? Give us a call and we will be more than happy to discuss your options, and see if you qualify for Project Pricing.